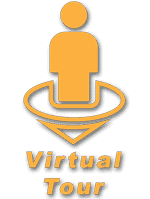 Click here to see what a virtual tour is all about!

Tell us what you're looking for!
Share your storage needs with us! Moving to a new place? Kids moving back in? Need a work shop? WE'RE HERE TO HELP! Fill out our basic info form and one of our storage specialists will tailor a custom experience fit to your needs.
Your Virtual Tour!
You will receive an email with instructions on how to access your virtual tour. A storage specialist will walk you through our Models in real-time via video chat. Simply log on during your selected appointment window and you will be greeted by a qualified team member. Sit back, relax, and let us do all the work for you! You will be able to interact and ask questions with your storage specialist and they will show you everything you need to see to make an informed buying decision.
Complete your order!
After your virtual tour you will be confident in your decision. Your storage specialist will customize a quote based on your personal needs and what you liked during the tour. You will be provided payment/financing options and will complete all necessary paperwork via web-sources.
That's it! We'll be on our way with your new building before you even know it!
Virtual tours are new, safe and efficient ways to shop! Take the guess work and gas mileage out of shopping around! With a virtual tour you can get the full shopping experience from the comfort of your own home (or where ever you are!). Virtual tours are web based video calls in which a qualified representative walks your through our models in real-time, personalizing your experience and answering all of your questions to help you make a smart buying decision.
How to schedule a Virtual tour?
Follow the steps above to schedule your very own virtual tour! Its as easy as 1-2-3. We are currently available for virtual tours Monday-Friday from 10am-5pm. We can interact with you from any location during your selected time-slot. Virtual tours vary in time based on your specific needs, we are more than willing to walk and talk with you through our products! 
What happens during a virtual tour?
During a virtual tour one of our storage specialists will reach out to you via live video chat to answer your questions and walk you through all models you are interested in viewing while providing expert-insight into your solution.
Does a virtual tour cost me anything?
Zero, zip, nada! We love hearing from you. Because of this we offer all virtual tours as a complimentary service to all of our online guests!