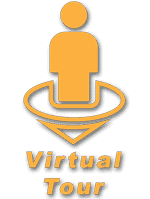 Click here to see what a virtual tour is all about!

Tell us what you're looking for!
Share your storage needs with us! Moving to a new place? Kids moving back in? Need a work shop? WE'RE HERE TO HELP! Fill out our basic info form and one of our storage specialists will tailor a custom experience fit to your needs.
Your Virtual Tour!
You will receive an email with instructions on how to access your virtual tour. A storage specialist will walk you through our Models in real-time via video chat. Simply log on during your selected appointment window and you will be greeted by a qualified team member. Sit back, relax, and let us do all the work for you! You will be able to interact and ask questions with your storage specialist and they will show you everything you need to see to make an informed buying decision.
Complete your order!
After your virtual tour you will be confident in your decision. Your storage specialist will customize a quote based on your personal needs and what you liked during the tour. You will be provided payment/financing options and will complete all necessary paperwork via web-sources.
That's it! We'll be on our way with your new building before you even know it!